Tom Smith is a "horse whisperer." In 1934, he takes a job with Charles Howard (Jeff Bridges), a wealthy Californian who wants to get into horse racing. Smith thinks he can help.
During a trip to the East Coast, where he's intent to find a great thoroughbred, Smith spots a bad-tempered, knobby-kneed horse who's been raced too often. But there is something about that horse which intrigues Smith. Something which makes him think the horse - called Seabiscuit - can be a winner.
Smith (played by Chris Cooper) is right. He picks a jockey named Red Pollard (Tobey Maguire) to ride "The Biscuit." Improving dramatically, Tom's gamble is so fast he "burned the top off the racetrack" during his workouts. Although he's never raced in the Derby, and is too old to take on rivals at Pimlico or Belmont, Seabiscuit was fast ... really fast.
What if the misshapen horse (whose earlier owners have written him off) runs a match race against the fastest horse in 1938 America? What if The Biscuit were to travel east, to Pimlico, to take on the reigning triple-crown winner, War Admiral?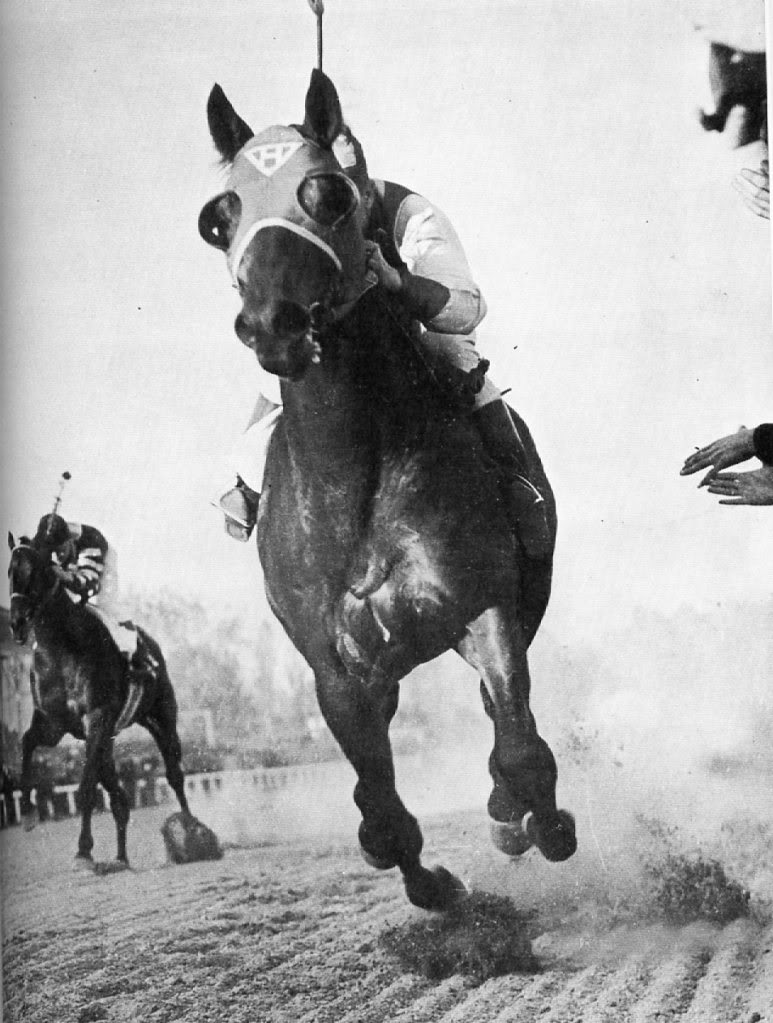 In a race which many think is the best of the twentieth century, Seabiscuit (guided by George "Iceman" Woolf) beats War Admiral (a younger horse) by four lengths. Grantland Rice, a top sportswriter of the time, says it is "one of the greatest match races ever run in the ancient history of the turf."
The Biscuit isn't quite finished, however ... not then, and not now. In March of 1940, he captures the biggest purse in horse racing (the Santa Anita Handicap).
Seven years later, while in his stall at Howard's ranch, the great champion has a heart attack and dies. (He was only fourteen.) In 2003, a film about him makes his story come alive once again.
In this story behind the movie, meet the real Seabiscuit and his "triple crown" of supporters: Charles Howard, Tom Smith and Red Pollard. Watch a video of the 1938 match race between Seabiscuit and War Admiral. See previously unpublished photos and virtually visit Ridgewood Ranch, the champion's final resting place.